Boys, tune out.

Because this post is dedicated to all the

gorgeous, modish ladies

out there! ;) :P




First of all, girls, let me introduce Mist

ress

to you!

Mist

ress

is an

exclusive privilege card

made just for all you chic ladies out there.

We know just how exciting your life is,

both night and day

, and this card is put together with YOU in mind. We have high hopes for Mist

ress

to enrich and complement your fabulous and entertaining life! ;)




So here are the awesome bits.

1. Mist

ress

allows

you and a guest of yours to enter Mist Club for free

.*

2. As a Mist

ress

card owner

,

you're also entitled to

an exclusive 10% discount on any bottle purchases

.

*



Nuh uh, the fun doesn't stop there.

3.

Get invited to cool, exclusive parties

hosted specially for Mist

ress

members, every now and then!

4. Mist

ress

also allows you an

exclusive 10% discount whenever you shop at any of our participating outlets

!

Here are

just some

of the participating outlets:




Located at Dataran Sunway, Kota Damansara,

Hot Fuss Salon

doesn't just style your hair, they make you up too!






Culture Couture

houses a plethora of funky, famous international brands such as Von Dutch, Ed Hardy, Christian Audigier, Rock & Republic, and many others!





Gossips Boutique

is definitely a favorite boutique of mine in Telawi Street. You can always find the prettiest, chicest items here. And the bags they bring in? They're totally to die for!

(Do click on the logos to be directed to these outlets' official sites/blogs. :))

Psst, get the full list of outlets upon membership!

5. Oh, the coolest part is, if you spend a minimum of RM50 at these outlets, you get to

redeem a free drink

at Mist Club!
All you have to do is present your receipt of purchase and your trusty Mist

ress

card at the bar!

Aha, you get rewarded for shopping. Ain't that fab?


*the shopaholic in me grinning gleefully!* :P






That leads us to this.

You know the drill. A fab card deserves a fab launch party!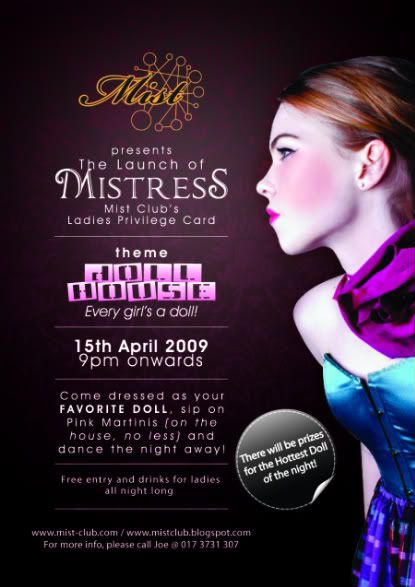 Heh, now you know why I'm posting up all these pictures of dolls eh?




Girls, I hope you are all as excited about the theme as I am!

It's always fun to get all dolled up, no? :D

Think Barbie, Blythe, MyScene, Bratz and hey, even Celebrity Dolls (from Katy Perry, Rihanna, Taylor Swift to many others!).





(Picture credit:Rihannadaily.com)



And just about any dolls you can think of!
The theme is totally open to your own interpretation.

There's only one rule; dress to kill!

Because the

Hottest Doll of the night will win prizes

! ;)




Now if you want to be a proud owner of Mist

ress

,

Mist Club

's where you gotta be this coming 15th April 2009!

So, make that Wednesday night a girls night out;

gather all your bestest gurlies, play dress-up, hop on over, drink up and party with us all night long

!

I'm so gonna do the same! ;)

P/S: Boys, I know you did not listen to me and tune out. Haha yes, you may come and join in the fun too!

Jazzy*Pam


*Terms & Condition applies